Antica Corte Pallavicina Tours
To learn about the Antica Corte Pallavicina, there are four possible itineraries: from the halls of the noble floor of the Castle, to theMuseo del Culatello e del Masalén", from the farm with ancient black pigs breed and the garden products to the visit to a Parmigiano Reggiano factory (only for the Relais guests). Each path deserves to be concluded with a tasting of our products.
Visit to the Court – Route 1
Starting from the garden, you pass the arch to enter the large Court where a small door allows you to enter in the ancient kitchen with a coffered ceiling and continue in the elegant frescoed rooms (residence of the Marquises Pallavicino from the XIII to the XIX Century).
Duration: twenty minutes.
Period: from February 1st to December 30th.
Timetables

Open Tuesday to Sunday: 10.00 am – 6.00 pm (last admission 5.30 pm)
Monday, not holidays, closed.
The Castle could be closed during events. A previous check by phone and a booking is recommended.

Costs: € 3.00 per person including audio guide in Italian, English or French (it is advisable to complete the tour with a visit to the Culatello Museum).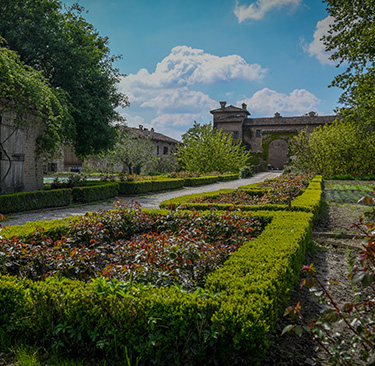 Visit to the Culatello Museum and Po Forest – Route 2
A permanent exhibition itinerary, commissioned by the Spigaroli family, linked to a tradition excavated in the heart of the Bassa and the history of the family. A path that winds inside and outside the Ancient Court among ancient maps, documents, photographs, videos, multimedia equipment and objects related to rural civilization, up to the ancient aging cellars.
The Culatello Museum has an open air extension called PO FOREST. A beautiful 1.5 km outdoor course, divided into 12 stages to discover the forest, the Po river floodplain and our wild breeding black pigs. A walk through history, culture and nature told in the audio guide and on the ad hoc brochure, which can be bought with just one euro more than the admission ticket to the Museum, thus contributing to the maintenance of the route.
Duration: forty-five minutes + an hour for the PO FOREST walk.
Period: from February 1st to December 30th.
Timetables

Open Tuesday to Sunday: 10.00 am – 6.00 pm (last admission 5.30 pm)
Monday, not holidays, closed.
The museum could be closed during events. Please check previously by phone, booking is recommended.

Costs

Full price: € 7.00 per person including audio guide in Italian or English
Reduced: € 5.00 groups (minimum 10 people), adults over 65, conventions.
Reduced schools: € 3.00 classes and students from 6 to 18 years, University of Parma with card.
Free: disabled and their carers, group and school attendants, journalists, children under 6 years.
Guided tour for groups: € 20.00 plus admission ticket (11 to 25 people). Booking required