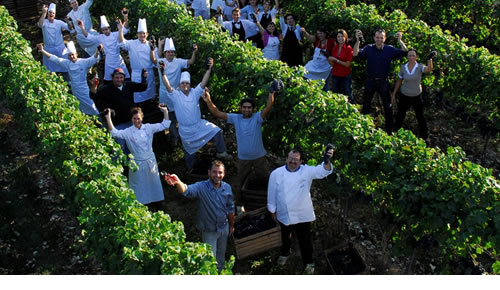 To talk about a farm is a bit like talking about the trees of the Spigaroli family. Starting with our great-great-grandfather, estate manager of the Piantador farm, all the Spigaroli have always had farming in their blood. In fact even today Massimo has often been called "THE FARMING CHEF".
Over the years the Spigaroli family has grown, the farm has added a restaurant called AL CAVALLINO BIANCO (AT THE SIGN OF THE WHITE PONY), then a business producing the finest salumi in the Parmense Lowland area, the "ANTICA CORTE PALLAVICINA" and most recently a Relais called the ANTICA CORTE PALLAVICINA RELAIS.
As a result there has been no shortage of things to do over the years. But the family farm has never been neglected. On the contrary year by year it bas been expanded, improved and we have always tried to ensure that our production has is carried out using the natural methods that have always been used in this area (the Spigaroli believe that the term 'organic' is often deliberately over-used..)
To the groves of poplar trees and the maize (used to feed the pigs) were added the kitchen gardens that put on such a show alongside the provincial road from Zibello, and the vineyards of Fortana, Fortanella and Lambrusco grapes.
We can safely say that the Spigaroli Brothers' farm covers the whole spectrum in its "LITTLE WORLD". Its fields provide: maize, poplar, grapes, all kinds of vegetables, and fruit that seemed to have disappeared from our landscape. From our sties come native breed pigs, white cattle from the Po valley, geese, ducks and chickens.
As a result the farm provides: the pigs that enable us to produce the best salumi in the world, the grapes that yield great wines such as STROLOGO, TAMBUREN, FORTANA, FORTANELLA and the ROSSO DEL MOTTO, and the fruit and vegetables that are used in the kitchens of the Cavallino Bianco and the Relais Antica Corte Palavicina. And the meats of all kinds also end up in the kitchens of the family's restaurants.
A wonderful 'shop window' of the farm's produce can be found every Saturday morning in the market in Via Imbriani in Parma… At dawn each Saturday the family's staff set off for the city so that many more people can enjoy the Spigaroli's produce.