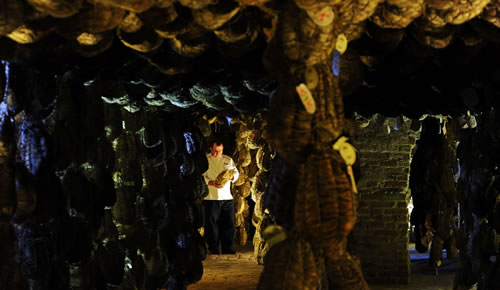 The Farmhouse Cellars
The Cellars of the Corte, built in 1320 by the marquesses of Pallavicina, were used by them for curing salumi and maturing cheeses, for ageing their wines and storing the produce from their lands.
A place with a rich history, where they cured the Culatelli that they sent to the Dukes of Milan (the Sforza family) where they were used in the banquets held in the Sforza Castle, or as precious gifts to curry the favour of the foremost nobles of Europe or the most fearsome warlords.
A large part of these cellars is set aside for holding cookery and masters classes on Culatello, small events such as intimate dinners, sometimes by candlelight, but also small seminars on art, wine, typical local products, the River Po and the history of the area.
The Noble Floor
Some of the rooms on the Noble Floor are left at the complete disposal of our guests, perhaps to relax drinking a herbal tea from the Capuchin monks at the abbey in Torrechiara or reading a good book! While in the tower with the signs of the zodiac, you can browse through our collection of books dedicated to the pig and everything related to this area.
top