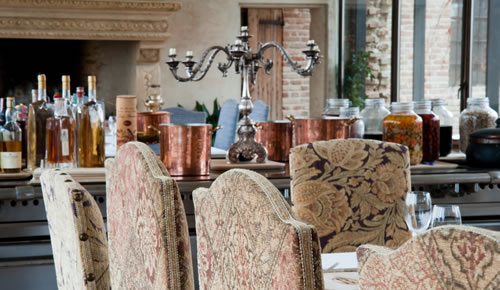 To Start
› A podium of culatello from the "White Pig" aged over 18 and 27 months under the supervision of Slow Food and the "Black Pig" aged over 37 months, served with home prepared mix vegetables from the Court € 22.00
› Chopped shrimp, pork trotter, citrus, parsley sauce and sprouts  € 22,00
› One think about my garden, on a mustard mayonnaise, carp bottarga and flowers   € 20,00
› White shell egg on baby potatoes cream, asparagus and caviar  € 26,00
Pasta and Risotti
› Traditional Parma style "Tortelli" stuffed with ricotta and spinach dressed with butter sauce from red cow   € 18,00
› Black rice, with a ragout of small freshwater fish and their restricted sauce € 22,00
› Green herbs soup, broad beans, peas and Parmesan crusts € 18,00
›Hen ravioli on a velvety saffron sauce and Swiss chard € 20.00
›Dumplings stuffed with blue cheese goat, vegetables and rabbit € 20,00
Fish
› Sturgeon and golden scallops on a light sauce of zucchini flowers € 26,00
› Frog legs with sweet garlic and parsley served on crushed potatoes with green sprouts € 24.00
Meat
› Parma black pig with its crispy rind Artemisia scented € 30,00
› Different forms of Cornigliese lamb, herb-garden and woodland € 28,00
› White ox fracosta with its 60 days of aging € 36,00
› Germana duck cooked with its filling, thyme and juniper  € 28,00
› Guinea Fowl cooked with culatello in the Po river's clay served with vegetables from our garden € 56.00 (for 2 people)
Cheeses Board
› The local territorial cheese selection from the Parmigiano-Reggiano to the sheep, goats and cow's milk € 17.00
Desserts
› Dark chocolate soufflé and coulis of eggnog € 15.00
› Domori chocolate cylinder and Violetta di Parma € 15.00
› Millefeuille roller of Musone apples with sorbet € 15.00
› Creamy ricotta and Lauro pears flambé € 15.00
› Rhubarb soup and strawberries on lychee sorbet € 15.00
› Pastry, lemon cream and fruit € 15.00.
…since I was a small child I dreamt of becoming a chef!
For me there was no other choice…
Then when I was eighteen, I had another dream: to produce everything I cooked.
The castle where my father was born would be the perfect setting
to merge culture with hospitality…
and this dream came true when we bought the castle when I was thirty years old.
After twenty years, the renovations are now complete.
And now almost all my dreams have come true…
The last one that remains is of course the most difficult, the most important…
To create a grand restaurant to showcase what we produce
and the gastronomic culture of my homeland!
Just as I promised my mother…
To work towards my dreams, in silence and with humility.