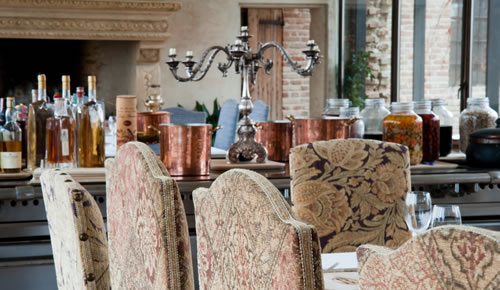 To Start
› A podium of culatello from the "White Pig" aged over 18 and 27 months under the supervision of Slow Food and the "Black Pig" aged over 37 months, served with home prepared mix vegetables from the Court € 24.00
› White shell poached egg, on a potato cream and truffle € 24.00
› The cockerel oysters, shrimps and sweetbreads on a pumpkin royale € 22,00
› The soused pheasant and vegetable sprouts  € 22,00
Pasta and Risotti
› Traditional Parma style "Tortelli" stuffed with ricotta and spinach dressed with butter sauce from red cow   € 18,00
› Dumplings filled with snails, wood scents, chanterelle mushrooms and mugweed € 22,00
› The rice savarin covered with Spigaroli cooked ham, red cow cheese cream from Urzano and poplar mushrooms € 20,00
› The pumpkin ravioli, Jerusalem artichoke and Parmigiano velouté, hazelnuts and summer savory € 20.00
› Soft Parmigiano-Reggiano dumplings "Soffici" in hen broth, under a puff pastry crust € 18,00
Fish
› The sturgeon from my childhood tales, cooked in the Po sand on a green pie and crispy lard € 30,00
› Frog legs with sweet garlic, parsley and polenta  € 26.00
Meat
› The Germana duck cooked in two ways, the confit leg and its rosy breast € 30,00
› The capon with Champignon mushroom cream, black bread cubes, vegetables ragout and truffle € 32,00
› The Black Pork filet slightly smoked on poplar leaves and hay with beer reduction € 36,00
› The hare tournedos filled with foie gras, celeriac cooked in the straw and white watermelon € 34,00
› Guinea Fowl cooked with culatello in the Po river's clay served with vegetables from our garden € 56.00 (for 2 people)
Cheeses Board
› The local territorial cheese selection from the Parmigiano-Reggiano to the sheep, goats and cow's milk € 17.00
Desserts
› White chocolate small dome with lemon heart, strawberries and his sorbet € 15.00
› Semifreddo parfait with Gianduja, coffee and lemon scented herb ice cream € 15.00
›  Cold soup with peach, melon, watermelon and our historical ice – cream € 15.00
› Small cylinder with pistachio and meringue, licorice sauce and zabaglione ice – cream € 15.00
› Our idea about Tiramisu € 15.00
› Soft Babà with Corte sour Cherries and Chantilly cream € 15.00.
…since I was a small child I dreamt of becoming a chef!
For me there was no other choice…
Then when I was eighteen, I had another dream: to produce everything I cooked.
The castle where my father was born would be the perfect setting
to merge culture with hospitality…
and this dream came true when we bought the castle when I was thirty years old.
After twenty years, the renovations are now complete.
And now almost all my dreams have come true…
The last one that remains is of course the most difficult, the most important…
To create a grand restaurant to showcase what we produce
and the gastronomic culture of my homeland!
Just as I promised my mother…
To work towards my dreams, in silence and with humility.